High Point North
HPN HISTORY
The High Point North Condominium is located at 11400 Coastal Highway. Our Condominium Master Deed was filed in August 1972 and HPN was the second major high rise building constructed along "Condo Row" in North Ocean City. HPN is a single, all-concrete building consisting of 19 Efficiency units on the Mezzanine Level plus our building management office, 65 One Bedroom units and 52 Two Bedroom units on Floors 1-13, and a Penthouse unit on the 14th Floor. Our condominium units vary in size from 500 Square Foot Efficiencies to a 4,000 Square Foot Penthouse (see Floor Plans).
All units with one and two bedrooms have private, direct Ocean Front balconies and enclosed direct Bay view patio rooms or lanais. All units have air conditioning, one and two bedroom units have a clothes washer and dryer, and all suites have an additional storage closet located inside of each unit.
All units can be accessed via three full size elevators located in the tiled lobby or stairwells located at the north end of the building (between the "A" and "B" stacks) and at the south end of the building (between the "H" and "J" stacks). We have one central trash chute located in the center of our building on all of our numbered floors.
At approximately 20,000 sqare feet, HPN boasts one of the largest true oceanfront decks for an condominium in Ocean City. Our deck contains ample chairs, tables and lounges, and our large swimming pool was rennovated in 1998. The pool is open from Memorial Day weekend through Labor Day weekend and the deck may be accessed year round.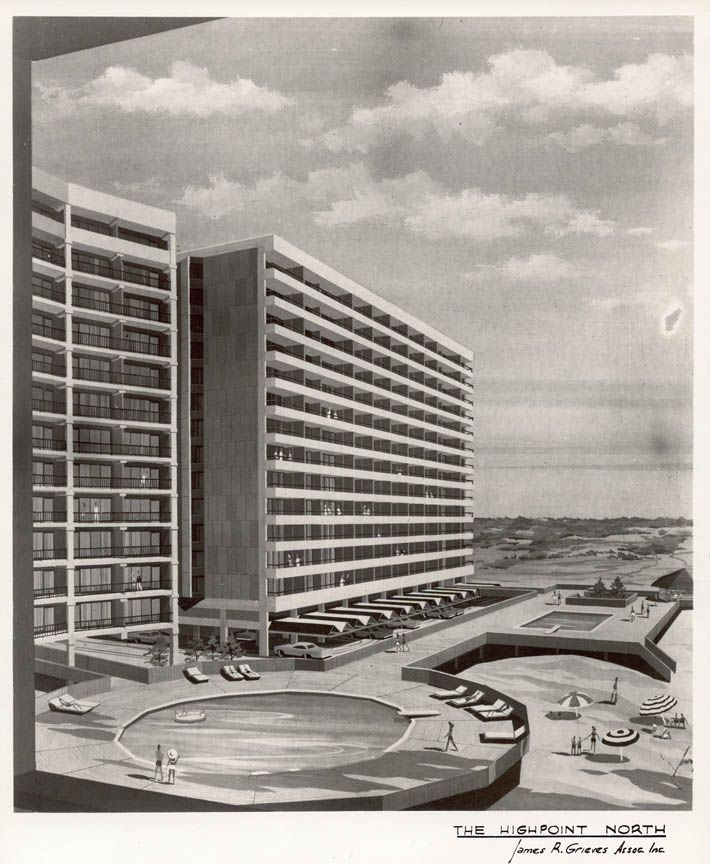 We normally have ample parking for our residents and guests in the main parking lot, as well as 5 ADA parking spaces and 66 resident-owned parking spaces located under our building and deck areas. There are some restrictions on the number of vehicles per unit during the summer season, and Boats, Jet Skis, Campers, and un-registered or oversized vehicles are not permitted on the HPN Condominimum property.
High Point North is close to all of the year-round activities and conveniences that distinguish Ocean City from virtually every other beach resort in the mid-Atlantic states. The Town of Ocean City's beautiful North Side Park is just a few blocks north, while the Gold Coast Mall and its unique shops are just across Coastal Highway. Nearby is a Senior Center and the OC Convention Center is just a few blocks south. HPN is close to the OC Library, Churches or all denominations and Synagogues, scores of restaurants, Art Galleries, Gift Shops, Marinas and services such as Banks, Investment, and Insurance firms and Legal offices, all of which are typically opened year round.
Tom Downey is our Building Manager. You can reach Tom at 410-961-4557, and please leave a voicemail if he is not available. In case of a building emergency you can page tom at 877-252-4814 (EMERGENCIES ONLY).
HPN has a full time staff of three and a part time bookkeeper. The staff is available Monday through Friday, 6AM through 3PM, October 1st through Memorial Day weekend. During the summer season, Memorial Day through Labor Day, one of our staff is on site 7 days a week, 6AM through 3PM.
We hire Seasonal Security companies to assist our staff from Memorial Day through Labor Day weekends. All vehicles on site must be registered during the summer season